Music ensembles at Hilltop are up and running - praise God! There is a place for all interests, ages, and level of ability - take your pick!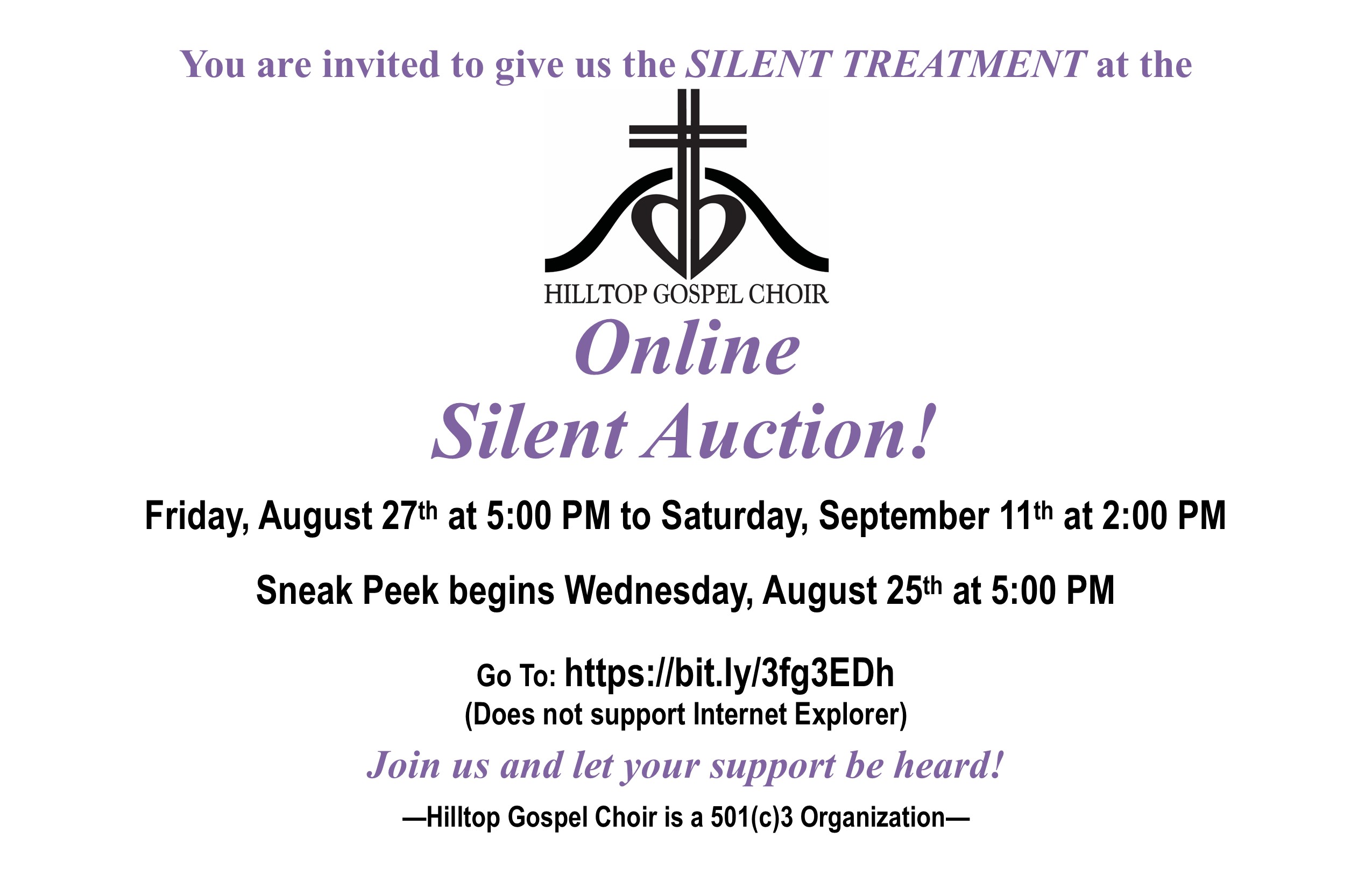 Have Fun and Support the Hilltop Gospel Choir (HGC) at their first Silent Auction featuring more than 70 packages. There is plenty to choose from and something for everyone. High Bidders will be notified on September 11th.
Plus--You may be the lucky winner of a 65" Vizio Flatscreen TV. Earn an Opportunity to Win by donating $5.00 for one Opportunity or $20 for 5 Opportunities. Drawing for the TV will be held on September 11th.
Check the Auction Website often--you may be outbid by someone else and you will want to make another bid to seal your deal.
All proceeds go toward the Hilltop Gospel Chori's Tour to the United Kingdom in 2022. HGC is a 501(3)c and all donations are tax deductible minus the actual cost of the package you win.
Please share this with your friends, family, coworkers and your Social Media Websites. The more involved the more fun it will be!


Chancel Choir
Weekly rehearsals are Thursday evenings from 7:00 - 9:00 pm. The Chancel Choir leads 10:30 a.m. worship September through May, and for special services (Christmas Eve, Holy Week, etc.). Chancel Choir is active in the community through participation in festivals and other events. Membership in the Choir is open to all who love to sing, enjoy the fellowship of an ensemble, and can hear and match pitch.
Sanctuary Singers
Rehearses weekly with Chancel Choir (see above). Leads 9:00 worship each Sunday September through May. All Choirs at Hilltop perform a wide variety of repertoire, in keeping with worship that is dynamic, eclectic, and inclusive. A special chamber group of singers - if you enjoy the challenge and heightened musicality of a small group, Sanctuary Singers is for you.
Summer Singers - for all ages
The ensemble for those who need a Choir fix year 'round! This group is composed of singers who read and memorize music, working on an abbreviated rehearsal schedule. Summer Singers primarily leads worship during the summer weeks, but perform musical offerings occasionally throughout the year. They are also available for special community events. Summer Singers is open to all ages. June-August, rehearsals Thursday nights 7:00 - 8:30 p.m.
Praise Band
Rehearsals for Hilltop's Praise Band are the two Wednesdays prior to the second Friday of each month, from 7:00 - 9:00 p.m. The Band plays monthly in worship services and also conducts a worship service at the Rescue Mission of Salt Lake the second Friday of each month. Vocalists and instrumentalists combine in this ensemble to present songs of praise. Instrumentalists need to be able to recognize and play guitar chords or read music; vocalists should be able to derive harmonies from the melody line.
Hallelujah Bells
The Hallelujah Bells ring four-1/2 octaves of bells and three octaves of chimes every four to six weeks during worship services. Positions are open for permanent ringers and substitutes, grades H.S. and up. The Hallelujah Bells are currently off for the summer. Rehearsals are Mondays 6:30 - 8:30 p.m. Ringers should have basic music reading and rhythmic skills.
Carillon Belles
A bell quartet for experienced ringers.
Hilltop Gospel Choir - amazing experience!
The Hilltop Gospel Choir is an outreach ministry of Hilltop UMC and is open to all in our congregational family and the community. We welcome singers of all denominations. The HGC rehearses and performs each spring, and accepts invitations to perform at church festivals and celebrations throughout the year. Rehearsals for 2021 begin Tuesday, February 2. Join us in 2022 for our July tour to England "It's About Time!" Visit HGC website.
Soloists and Small Ensembles
Opportunities for instrumental and vocal soloists and small groups are available for worship. Assistance in selecting music, coaching, and accompaniment is provided as needed.
Young Adult Choir
The Young Adult Choir is open to those of high school and college age; provides a musical offering and leadership in worship monthly, and performs in concert annually. Rehearsals are Monday evenings from 7:00 - 8:00 pm.
Silver Songbirds
Currently on hold - please check back or call 801.571.5777
Anyone who is young at heart and loves to sing is welcome to join the Songbirds. The Songbirds sing at area senior centers, at worship services, or special events upon invitation. Check the church calendar for scheduled rehearsals.
Men's Quartet/Choir
Open to all men, this ensemble provides a musical offering in worship approximately every six weeks, and performs occasionally in the community. Rehearsal schedule is currently variable. Ensemble members are able to read and memorize music.
Women's Quartet/Choir
Open to all women, this ensemble provides a musical offering in worship approximately every six weeks, and performs occasionally in the community. Rehearsal schedule is currently variable. Ensemble members are able to read and memorize music.
Instrumental Players
If you are an instrumentalist, Hilltop's music program welcomes your participation in our worship services as special music in small group or solo. Accompaniment is provided.
Please visit Children's Music page for all the music news and activities!